When I think of ghost-loving gals, the first film to come to mind is obviously the 2016 all-lady reboot of Ghostbusters, uniting some of my favorite figures in comedy and my favorite spooky storyline. Though it doesn't replace the original, this Bechdel no brainer has quickly become one of my annual Halloween traditions.
This retelling brings together ghost-fighting dream team, Erin (Kristen Wiig), Abby (Melissa McCarthy), Holtzmann (Kate McKinnon) and Patty (Leslie Jones), who — get this — not only talk about physics, but also land some mean fart jokes. The Ghostbusters, along with pretty boy receptionist Kevin (Chris Hemsworth), investigate a series of paranormal happenings across New York City… and score some unbelievable street parking. (It shows my age that their park jobs were the least believable part of the film for me.)
The villain at the heart of these incidents is a basement-lurking Internet "genius" named Rowan (Neil Casey) — an incredibly spot-on depiction of entitled male trolls everywhere.
What keeps me coming back to Ghostbusters is the kinds of jokes these women get to try out — from bathroom humor to critiques of the patriarchy. And then there's all the outlandish content coming out of McKinnon's mouth. She introduces her character as, "Virgo, avid skiier, gluten-full and 100 percent jazzed to meet you," and gets across right away that she will be carrying the film.  
But as women assume the comedic roles largely left for men, these characters also take on some negative comedic tropes, such as the persistent sexual harassment of Kevin (like a Hemsworth could ever really pass for a 'Kevin'). Wiig's character opens his job interview by asking if he has a girlfriend — the first in a long line of grinding dance moves and attempted touches.
This film checks so many boxes for me, and the more I watch, the more I realize how unfair it is to expect Ghostbusters to hit everything. Women, especially women of color, are so starved for representation in film that a blockbuster like this one carries a lot of pressure. Though I cringe at some of Erin's comments to Kevin, I can appreciate their complicated characters — and continue to pine after the perfect feminist comedy.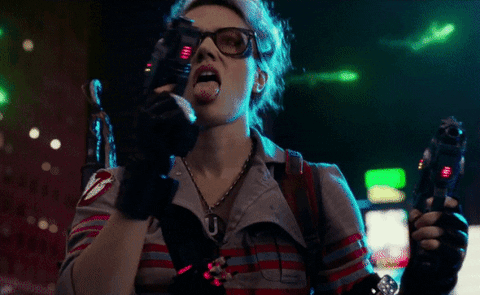 Tired of Halloween films obsessed with murdering men? Want your conscience at ease while your stomach's in knots? Revisit these 13 freaky films with a feminist lens, and let us know what you think:
Beetlejuice

Rosemary's Baby

Blair Witch Project

The Babbadook

The Addams' Family

The Exorcist

Carrie

Casper

E.T.

The Conjuring

Poltergeist

Alien (no matter how phallic the monster may be)