Okay, let me get this straight: It's a western… original to Netflix… set in a town mostly populated by women… and I can binge it over Thanksgiving break? Bless my feminist soul.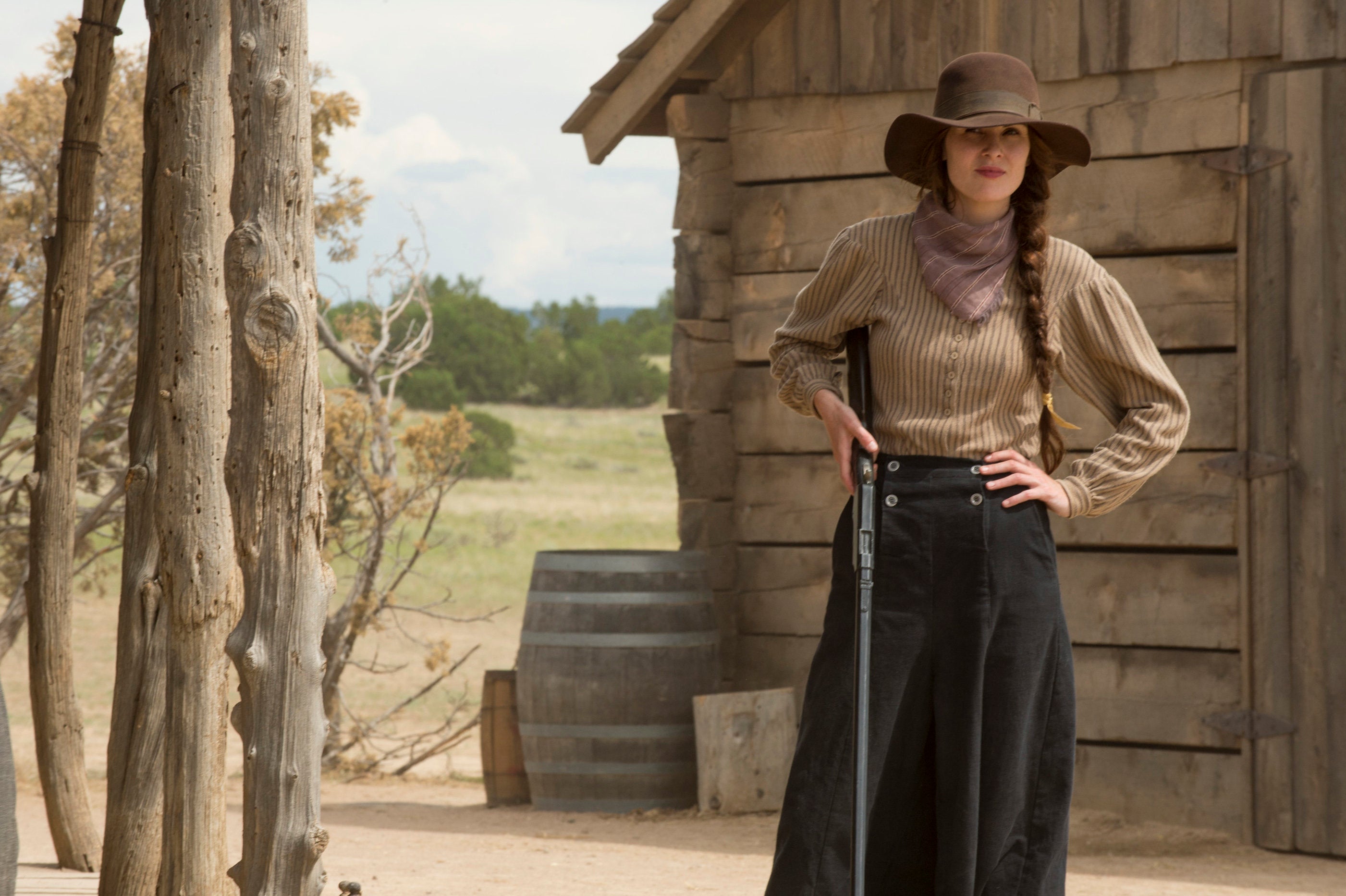 From its first moments, Godless, a seven-part miniseries from Netflix, makes clear from the outset: this is a traditional western, without much new to bring in terms of plot. But boy, do character development, incredible performances, and cinematography make up for what it lacks in originality.
The series opens with a deliciously drawn out, nearly silent opening scene. Jack McCoy, uh I mean, Marshal John Cook (Sam Waterson), boasting a pretty impressive mustache, surveys the damage in the aftermath of a violent robbery. A train was overturned, people were burned alive, and the only survivor mournfully sings, "He is a mystery of my soul," over and over. A hanged child brings Cook to his knees.
And there you have it: Godless promises to be violent, introspective, tropey and full of religious symbolism that often goes over my head. And it's fabulous.
The series takes place in the Wild West, as injured outlaw Roy Goode (understated babe Jack O'Connell) is on the run from his one-armed former boss and crime mentor Frank Griffin (Jeff Daniels). He shows up in the middle of the night at Alice Fletcher (Michelle Dockery)'s farm, shot and in search of help, and she promptly shoots him in the neck.
"You're lucky there wasn't more of a moon," she boasts once he's recovered. "I was aiming a little higher."
Alice lives in La Belle, a town devastated by a mining accident that left a male population you can count on one hand. An article in the Guardian earlier this week reveals that the town actually existed in Taos County, New Mexico — a mindblowing bit of trivia that endears the show to me all the more.
Now two years have passed, and the town's femmefolk have taken on the hefty task of running things alone. The mayor's widow and now de facto leader, Mary Agnes (Merritt Wever), shows this the best, as she chooses to wear her husband's old clothes, hat and gun and run the town with the general gruff attitude and RBF one would expect from a lady who's done with men's shit.
In episode two, "The Ladies of La Belle," Mary Agnes' brother questions whether or not she can babysit his children since she's lost her maternal touch. In one of many incredible performances by Wever, the character says, "I love my husband, may he rest in peace, and I love [your kids] Willie and Trudy, too. But I'm done with the notion that the bliss of me and my sisters is to be found in childbearing and caregiving."
From there, the entangled lives, dramas and backstories of our characters takes off, promising more violence, mournful looks off into the distance, and probably some romance. (Alice and Roy are too hot and wounded by their pasts to not end up together at least once.)
Written and directed by Scott Frank and executive produced by Steven Soderbergh, Godless certainly doesn't stray from the tropes of the genre. Women are still raped by Griffin's band of outlaws, and slimy mining executives still try to swindle their way into the good graces of such fine women as La Belle's.
But its strength lies in the sheer time taken to let the story unfurl and the stand-out performances by Dockery and Wever. Like other Soderbergh projects, we get long, vivid tracking shots and simply beautifully constructed scenes. The plot moves a bit slowly, but it's worth it with the women we have on screen. I can't pick one scene for either Alice or Mary Agnes, as they shine constantly; though a favorite is our first moments with Alice. We meet her as she and Roy meet each other, shot in darkness during a storm and with the audience positioned downwind from Alice's shotgun.
I am the sensitive type for sure, the kind of person who gets weepy eyed as Dustin realizes Max loves Lucas and not him in Stranger Things. But I'm certain in the power of seeing women on screen holding powerful roles. As I burned through Godless, I constantly paused the episodes to note all the instances where women had traditionally male roles: wielding shotguns, cleaning guns (with an old corset, may I add), as carpenters, as builders, covered in mud, as heads of household, as decisionmakers… I could go on. It's small, but it meant a lot to see on screen, especially in our current climate of questioning women's power next to influential men.
Even excluding the number of women in Godless, it stands out for its subversion of classic western tropes and strong feminist commentary. I was first extremely put-off by the larger-than-life male characters we meet, especially Roy, who's billed as a gunslinging sensitive type, gentle enough to put a horse to sleep (literally — that happens). And just when I thought the show was a lost cause, Roy gets himself humbled repeatedly. Most simply, by the town Deputy Whitey (Thomas Brodie-Sangster) who doesn't believe Roy could be a murder or a robber, remarking, "You look more like the pissing in public type to me."
I could go on and on about the tropey, empowering goodness of Godless, but I'll leave that to you, dear reader. Take a break from your family and overindulging this weekend and sit down with 7 hours of Godless on Netflix starting today.